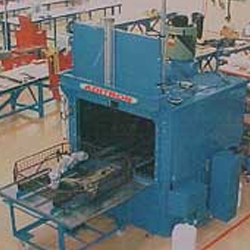 Production Shop Photograph (DM-033)
aditron production shop actual picture in the ss basket trolley you will load the product to be sanitized and disinfected from – medical parts – gloves – shoes- sleepers–ac filters of hospital or metro trains or any other part may be of glass–or eatables like vegetables fruits or plastic packets of dal– rice- meat — chicken pl select media suitable for application its end use the rotating jets on top ss jets will spray media under pressure or mist spray and from below fixed jets will spray media upwords same media collect in a tank below the system— the system having built in recirculation and filteration — heaters are optional all the systems are made to order in ms or ss awaiting your queries and further modifications possible as per application many many concepts possible can be designed to suit the application
Sanitizing And Disinfecting System
---
Rotating Jets from Tops and Sides (DM-035)
The diagram showing Parts/Gloves/Slippers/Any other Medical Equipments/Vegetables/Fruits/Plastic/Meat/Chicken/Anything Else needs Sanitizing And Disinfecting Packets in the basket and the rotating jets fixed on the top covering top and sides of and stationery jets at the bottom spraying media upwards in the basket.
Sanitizing And Disinfecting System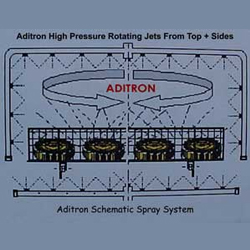 ---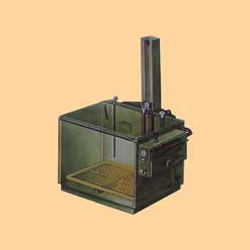 AGI DIP / Dipping / Dunking / Agitation (DM-018)
The ADITRON DM-018 (AGI-DIP) washers represent the most effective solution to all cleaning problems when a dipping process is required. The Aditron DM-018 washers are both manufactured with and without heating for operation at room temperature and at medium or high temperature.
The Aditron DM-018 washers are fully pneumatic and a low volume of compressed air is the only energy they need. The series AUTOMATIC are equipped with electronic timer, pneumatic cover lifter, double electric power, temperature gauge and consol type control box. For Larger Production 2 to 15 Aditron AGI-DIP systems can be arranged in line with manual shifting of baskets – low cost automation automatic lifting, shifting and dipping also being manufactured to suit the requirements.
Sanitizing And Disinfecting System
---
ROTARY JETS / TWO TIER BASKET (DM-012)
The ADITRON DM-012 operating principle is the same as the aditron DM-010 washers but the structure is different being totally cabined with fold type front door which acts as a load platform in open position, more liquid capacity, double heating power and the platform rotation is obtained by means of a heavy duty geared motor.
The Aditron DM-012 washers are therefore designed for heavy-duty continuos operation jobs. All actions are timer controlled automatic. The door opening and closing can be manual or automatic with pneumatic cylinders at extra cost.
Sanitizing And Disinfecting System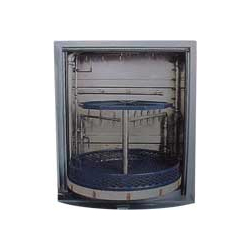 ---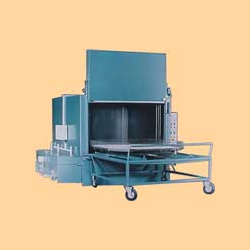 ROTATIONAL SANITIZING AND DISINFECTING SYSTEM WASHING (DM-013)
The Aditron Rotational Washing with automatic door closing machines are designed for the spray cleaning of medium and large sized heavy parts and for heavy duty or high productivity jobs.
The Aditron washers avoid all the drawbacks which arise from the use of a rotating platform for heavy parts and in addition give faster and more efficient cleaning plus a fully usable and accessible platform – basket.
The operating principle is based on rotary jets rotating through a specially designed manifold with four spray bars with special pattern nozzles. The revolving movement ensures a perfect cleaning of the parts.
Sanitizing And Disinfecting System
---
Single Stage Conveyor Washing (DM-084)
Photograph showing a Single Stage Conveyor jets cleaning – washing machine having high jet pressure spray from top – bottom and sides. The jets can be rotary or stationery(on all the four sides for effective Sanitizing).
Sanitizing And Disinfecting System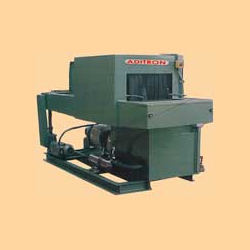 SS Nozels Showing Patterns for Spray Washing Machines