Aditron offer roller top trollies one person can change dies/ moulds upto 2500 kgs just push and pull two persons for dies upto 5000 kgs
The process of quick die change—- we are sure you wish to reduce your die change time by 30–80 percent it is expected or suggested that dies are stored in racks better if the racks with rollers One person alone ( if the die/ tools/ jigs/ fixtures with 2500 kgs) ( two persons if die weight is with 5000kgs) pulls it on a roller top trolley .
The hydraulic hand pump operated or mechanical trolley with rollers( a pair roller blocks are fixed on trolley top like a rail track for minimum friction and minimum effort) the trolley top height matched the height of rack first tier or second tier. The length or roler a bit bigger than die size
He takes the trolley to the press.by pushing it he brings one more vacant trolley to the press the die coming outgets loaded on the vacant trolley and die on the loaded roller top is pushed inside the press from first trolley.— ( if the die or mould is too large you may use chain pulley block on both sides for faster pushing or pulling and for final placement of die at location
Once production starts he takes the old die to the rack to store without using any other eqipment like over head crane or fork lift – the r o i can be few weeks or few months or say 150–200 die changes – no running cost– no maintenance— reduced man power–increased production. Resulting in direct or indirect savings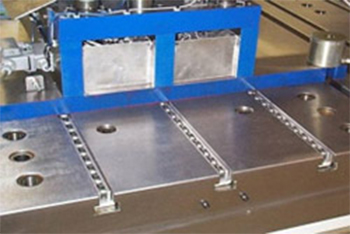 Aditron Die Lifters Shown Under The Die Inside T Slots/ S Slots
Aditron offering different sizes and capacities of roller die lifting arms when activated mechanically / pneumatic or hydraulics the die dies get lifted by 1mm. from the bed/ bolster one person can push or pull dies upto 2500 kgs two persons upto 5000kgs, three persons upto 10000 kgs.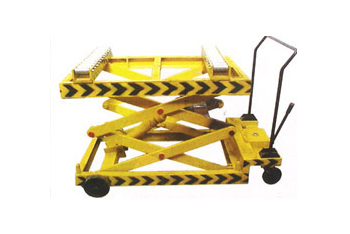 Roller Top Hydraulic Trolley With Two Rows Of Heavy Duty Solid Rollers
A large range of hydraulic hand pump operated roller top trolies having size ten percent larger than your largest die in that group is customized to suit the application — it is with four wheels including two castors-minimum height approx 500mm –max as required by bolster-die storage rack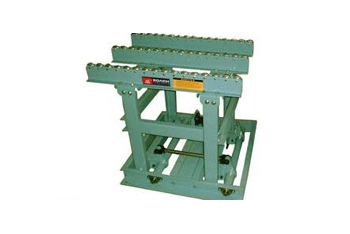 Roller Top Mechanical Trolley With Automatic Interlocking Facilities
Special range of heavy duty mechanical roller top trolleys with automatic interlocking facilities , as soon as the operator pushes the trolley to the press it gets interlocked at pre-fixed location will not move until the lock is released be the operator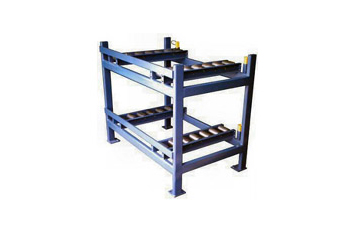 DIE/ MOULD / JIGS . Fixture Storage Rack With Rollers 1/2/3 Tier
Aditron manufacturing a large range of die/ mould/ jigs/ fixtures storage racks with rollers in different sizes and capacities. Die racks are with two rows of rollers like a rail track with little effort- of push or pull without any other equipment required to move, safety pins provided with chain.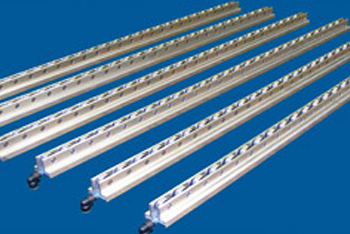 Aditron Die Lifters For T/U Slots of Press Bed / Bolster
Aditron offering Die Lifters For T/U Slots of Press Bed / Bolster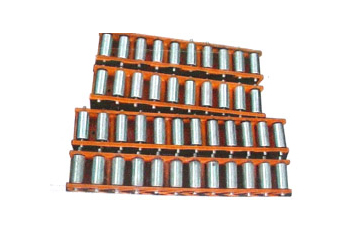 Roller Blocks
Aditron offering roller blocks for handling dies and moulds pushing or pulling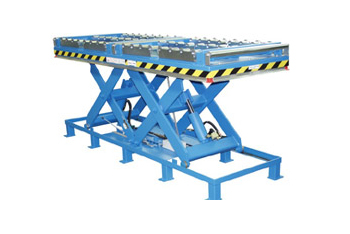 Roller Top Stationary Tables
Aditron roller top Stationary Die Change Tables usually are installed at the rear side of the presses and are built to suit the die size and shape.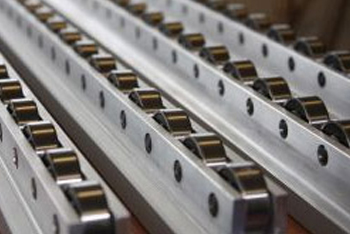 D-Roller Rails For Dies/ Moulds/ Jigs/ Fixtures/ Storage Racks
Aditron offering D-Roller Rails For Dies/ Moulds/ Jigs/ Fixtures/ Storage Racks
Why you should use aditron.
IMPLEMENT
Know you need to implement Aditron quick die change system in your shop, Process of starting Aditron QDC system, low cost automation at your press shop
ADITRONQDC few lean manufacturing methods increase press uptime, lower per-part costs, and provide an immediate return on investment (ROI) as readily as quick die change (QDC) does. Although the merits of QDC likely are well understood within the stamping field, tailoring a program to a company's current equipment and operational requirements can be challenging
Implementing a ADITRONQDC program is an easy and straightforward process, if it is done by grouping dies and presses in an orderly way. For each group of presses, ADITRONQDC implementation consists of die handling roller top trolleys- die storing roller top system with optimum use of man power and equipments
To develop a plant standard, consider all the data from several presses, rather than a single press, when possible.– or select few presses or divide the die weight wise or size wise or application wise
Determine Die Lifting Requirements with Aditron heavy duty long life die lifters Determine if die lifting is needed to mobilize the die easily during changeover. Inspect all the dies in the press to ensure their bottoms are flat. Examine the bolster plates, which require full or temporary supports during lifting, for large cutouts or other features that may interfere with aditron die lifters Typically, the bolster has two or more slots under each die running the entire bed length in the direction of die travel. In addition, the die bottoms usually are flat, which allows the dies to ride smoothly on rollers s. Small holes and access points are not a problem, if the surface is smooth and large enough to distribute the load over the lifting mechanism. If the bottom plates are not flat or the bolsters have large cutouts, you will have to consult us for additional, optional equipment.
Select aditron Lifting Device Style
Die density die weight will decide lifting device style.- roler size Low-density dies—enerally can be lifted with aditron roller rails, , which allow the die to be moved in linear direction).
High-density dies usually require several rails or a pair of heavy-duty roller rails, which move in only one direction, the direction it is inserted, or inline
Lift Capacity
Select a aditron die lifter enough power to lift the maximum die weight in that size of t slot/ u slot and move the die in the desired direction.
List out die sizes and weights. Calculate the die load in kgs per 300 mm pair of aditron die liftors.
Bolster bed length in the direction of slots in feet/ mm
Die width in the direction of the slots in feet (assuming the slots are in the same direction as die insertion)
Die weight — safety of factor ten percent Calculate each die's density as defined here and determine which has the greatest density. (Note that this is the density along one dimension only and not a volume density calculation.)

WARNING

It is very important that you do not select rails' lift capacity by the overall length. Rails that are as long as the entire bolster allow for the die insertion, but only the length of the rails that is under the die at any given time is actually lifting the die.–select Aditron die lifter suitable for your largest die on this press Once you have calculated for the heaviest die, confirm that the lifters chosen have the capacity to lift all the dies. Typically, choosing the heaviest die density will ensure correct capacity. However, slot location can be a problem if both large and small dies are run in the same press, because some of the dies might be too small to have all the rails under them.
For example, four die lifters are in the bolster to lift a large die, but when small dies are added, only the two middle lifters actually are in a position to do the lifting. You need to verify that the two middle ones can lift all the smaller dies.–with aditron roller top die lifters perform this calculation for all dies to verify that each die can be lifted: Die weight Once you have determined which aditron die l styles and capacities are needed, you can determine the needed overall rail length ) and slot configuration (3⁄4-inch slots, 1-in. slots or two inch , T slot, or rectangular).
Choose Die Removal Method
Getting the operating die out and the new die in begins by choosing a die removal method, based on space needs and press operations. die weight For all die sizes, there are three basic options:

Aditron hydraulic oller top trolies
Permanently mounted roller top die table–stationary design
Aditron roller top mechanical trolleys with automatic interlocking facilities

Mobile hydraulic or mechanical trolley that takes the die to the press; provides some type of alignment to it; and has a means of moving the die into the press directly—. It provides some interesting options, but the control and accuracy limitations of bulk moving equipment typically available may seem contrary to smooth and accurate die placement.
Permanently Mounted Aditron roller top Die Table. This is basically a heavy-duty table with rollers attached to the press. It allows die staging and eliminates the need to remove dies from the area, consistent with lean manufacturing principles. However, die tables can interfere with press access and press operations and are a fixed investment.
Bolster Extension. These are equipped with rollers that are level with the press's die lifters and are attached to the press during die movement. Once the die is moved onto the bolster extensions, it is easily accessible from the bottom for removal. Bolster extensions can be removed
IMPORTANT
you need to see your pay back —is directly or indirectly the reduction in die change time- reduced efforts — not waiting for other equipment to come for die exchange lifting — shifting to avoid all delays resulting in increased production:–although the time required to remove clamps and re clamping remains same